Members of the Puerto Rico National Guard today left for Honduras to carry out security missions at the Soto Cano Air Base.
"The Puerto Rico National Guard has been actively involved in military exchange operations in the sister country to Honduras, which has been of great benefit to the United States and its collaborative relationship with allied countries in Central and South America. The soldiers who are leaving today on this mission have the capacity and the commitment to fully and successfully fulfill ", expressed the adjutant general of Puerto Rico, Major General José J. Reyes.
A total of 60 citizen-soldiers from The Company 480 of the Military Police of the 92nd Brigade of the GNPR will be offering security to the Task Force – Bravo at the Soto Cano Base in Honduras, at the same time that they will be relieving another group of military police from the National Guard of Puerto Rico featured there.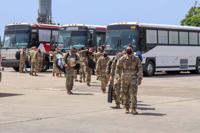 "Being part of this type of mission provides our soldiers with real experiences in the field while developing the skills acquired in the constant training they carry out. The interesting thing is that everything is carried out within a framework of mutual benefit while we strengthen ties of friendship with the countries of the region, "Reyes highlighted.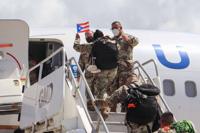 The GNPR has carried out security operations in the Soto Cano Base, Honduras for nearly three decades.