In the midst of the Covid-19 pandemic, thousands of unemployed continue to suffer an ordeal by not receiving the help of unemployment insurance and the Pandemic Unemployment Assistance Program (PUA) that they so badly need to pay their debts, cover needs and bring a plate of food to their families.
Although there was a change of secretary in the Department of Labor and Human Resources (DTRH) in early June amid countless complaints from the unemployed, With the arrival of Carlos Rivera Santiago, the claims have not dissipated.
Génesis Santiago, mother of a six-month-old infant, has been waiting for two months to receive a check for $ 300 under the Temporary Non-Occupational Disability Insurance (Sinot), in which tries to solve a problem with unemployment. Like her, there are thousands of people who, since the beginning of the pandemic, have waited to be cared for while debts accumulate and savings run out — for those who had them — according to what they say while waiting in lines.
"I have not received the money since April more or less, they called me. The explanation that the unemployment employee gave me (in an email) was: 'Good morning. Sinot payments have not yet come out. We are waiting for you to give us the go-ahead to issue payments. Secretary's signature is missing. We are sorry for the inconvenience, but it is not in our hands. ' That I understand … until he signs, the check cannot be issued, "said Santiago in an interview with EL VOCERO .
The young mother went yesterday, like many other people, to the DTRH headquarters in Hato Rey looking for answers. At 11:21 a.m. the agency doors were closed and with notifications warning that you could not enter the building unless you were an employee. Right at the entrance was located a mailbox where the unemployed deposit their documents in the hope of receiving help.
However, there is no employee who can answer the questions of the people who come to the building in person. It was hardly observed how a person – on one occasion or another – handed over a document to several of the applicants who were approaching the door. In the two and a half hours that this newspaper remained in place, more than 15 citizens deposited documents in the mailbox.
"I was 14 hours, a whole night, with my son in my arms; A man manages to answer at 7:00 a.m. and at 7:02 a.m. the call was dropped. I've been in this since before the pandemic started trying to communicate, I can't do it and obviously I can't expose myself to the ranks because I have a six-month-old baby. I am surviving with the money that my husband makes and the money that my father can give me. That is the only money I have, "said Santiago.
In these months, he said that he has received the benefit of the Special Supplemental Nutrition Program for Women, Infants and Children from one to five years (WIC, for its acronym in English ), an aid that has allowed her son David, to this day, not to lack food. However, to deal with the financial need, her husband has had to work more.
"Now my husband has to work all day and part of the night, exposing himself to the virus in order to bring money, to have our little things. It has been strong because he has missed very beautiful moments with the baby because he is working to be able to bring money, to be able to have things, to be able to make purchases. I'm really upset. Last night (Tuesday) I saw the news and I saw that they are voting for the papers and I could not … ", added Santiago with a broken voice and teary eyes.
No answer.
Likewise, José Cáez Pedraza said that since March he has not been able to work due to his health conditions. Unable to work, he applied for unemployment assistance online, but in the middle of the process there was a failure in connectivity. "Now every time I go in, it comes out that I have an application in progress, but I have never been given any, but no information, nor the three-letter code," he added.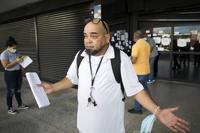 Cáez Pedraza —who said that he goes every day to the headquarters of the DTRH with his evidence of income – He highlighted that he deposits his evidence in the mailbox that was enabled, but does not receive a response. "I have tried to communicate by phone. I have been going since they were on the servicarro. "
Permanent protest
For his part, Ricardo Matos Rodríguez stressed that he has been claiming his right to unemployment from day one. "We decided to come here to protest so much so that help is given to us and to the more than 165,000 people who are enduring, who have not received their help," he added. "We have been protesting for 19 days, I think. We are not saying that aid is not being answered. They already answered it to me and although they have answered it, I am here for those people who have not been able to receive help ", he added.