The presence of three variants of covid-19 on the island may be one of the reasons why the number of positive cases is rapidly increasing, for which the epidemiologist Melissa Marzán stated that the Department of Health should report the associated cases these as part of the data offered in the covid-19 bioportal.
"Part of the limitation is that if one enters the official page, that information is not there," said Marzán. "Among the interesting variants that have been detected are those of Brazil, California and the British variant. We know that they are in community transmission, that they are circulating in the communities and it has nothing to do with people who traveled and returned. This may respond to this increase that we are seeing accelerated in cases because we know that this variant is associated with up to 50% more transmission ".
The Department of Health has reported about 28 cases that can be attributed to the UK variants (B.1.1.7); the Brazilian variant (P.2) and two California variants (B.1.429 and B.1.427). Except for a single case of a woman who died, the other infections are not related to travel by these patients, which Health has said implies that there is a community transmission.
"My hypothesis is that part of the rebound that we have seen has to do with the issue of variants," said Marzán.
This, he added, agrees with what entities such as the World Health Organization have reported, which estimates an increase of between 45% to 50% in cases, which can be attributed to the variants. Working on this, he said, would require other strategies beyond the mask, distancing and hand washing.
"It requires other measures that include restrictions. If these variants are circulating in the community, we have to be more restrictive for the vaccination to take effect, which we know is long-term, "explained the professor of the Public Health Program at Ponce Health Sciences University.
Lisdián Acevedo, press spokesman for the Department of Health, confirmed that the breakdown of cases attributed to variants is not part of the bioportal and said that it is something that "could" be incorporated, although without the details that identify each case. He affirmed that it is information that he includes in press releases about coronavirus infections on the Island.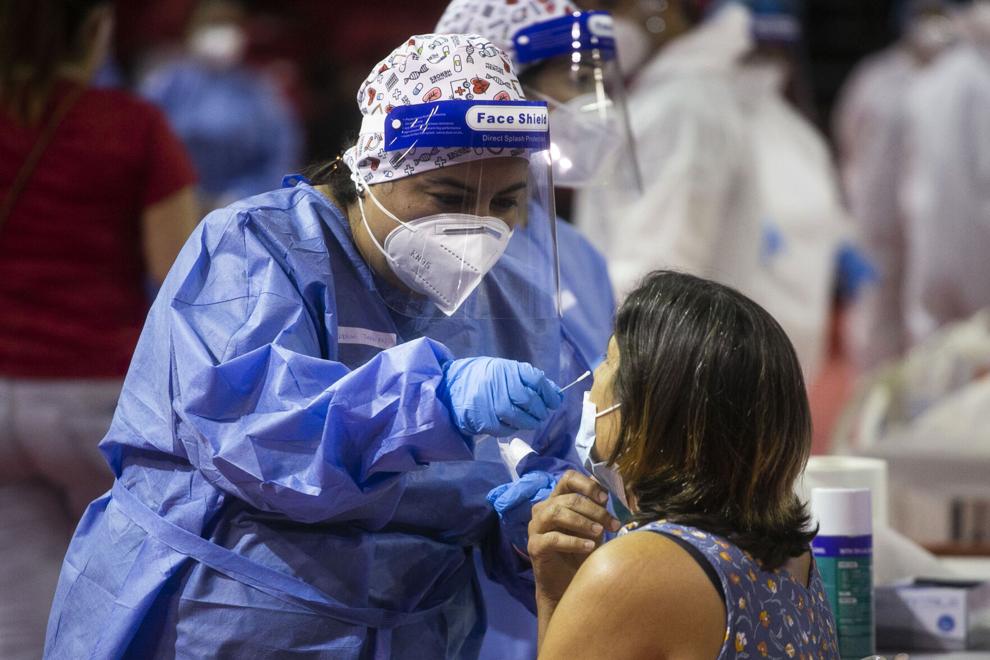 Deadliest variants
Marcos López Casillas, a research manager for the Puerto Rico Public Health Trust and a member of the Scientific Coalition that makes recommendations to Governor Pedro Pierluisi, said that the England variant has been shown to be 60% more lethal and 70% faster to transmit.
"What does that mean? We certainly have a variant that spreads and infects faster. Its infection capacity is faster. We are not saying that it evades the vaccine, because that is not true. It is that before we had a race with someone who reached the finish line in 15 seconds and now we compete with someone who reaches the finish line in 10 seconds ", he explained. "It does not mean that it will kill you faster, but that we will be in a situation where we are running against a variant that is quite fast infecting. We have to take steps to reach the goal with full immunity faster than the virus can run ".
One of the factors in the "race" for herd immunity is the speed with which vaccines can be administered. Reports from the CNN news network yesterday revealed that the number of Johnson & Johnson vaccines will be reduced by 84% next week, according to the Centers for Disease Control and Prevention (CDC, in English). This week, the pharmaceutical company shipped five million doses of the single-dose vaccine, while for next week the projection is that they will ship 785,000. As reported, Moderna and Pfizer's dispatch will remain unchanged.
He described as "normal" that hospitalized patients have been reported even with the vaccine, particularly if they only have the first dose of vaccines that require a double dose.
"There are vaccinated patients who have the first dose that perhaps in the process of generating immunity they were infected and sent to the hospital. With the second dose we have seen completely immunized patients and they have been able to become infected ", he stated. "But he does not necessarily send them to the hospital, but they develop a very mild infection process. But if it is infected, it can infect another person ".
Cases of coronavirus have been on the rise in recent weeks and Health has already announced that as of Monday schools will close again and will remain closed for two weeks. A new executive order signed by Governor Pedro Pierluisi has already entered into force that establishes a curfew from 10:00 pm to 5:00 am and takes up some restrictions, such as the prohibition to consume alcoholic beverages on the beaches.
Health reported 347 hospitalized people yesterday. Among these, there are 26 pediatric cases. There is a minor and 30 adults on ventilator and yesterday five deaths were reported due to the deadly virus.
López Casillas recalled the governor's announcement to allocate $ 20 million to create a Genomic Surveillance Program to monitor the variants and possible mutations of the virus.
The variants that have been identified so far, he said, emerged from 352 samples that were sequenced.
"This is how the variants were identified. It is a very slow process, that is why few have been done. But we are setting up the genomic surveillance program, "he said.
About a native variant
López Casillas acknowledged that, like other countries, Puerto Rico cannot rule out the emergence of a native variant, which could happen with an increase in infections.
"As infections increase, there is more possibility that people who go to hospitals with their immune systems acting differently can generate new variants that can be passed on to others," he explained. "As has happened in other jurisdictions, you can create a variant that is from Puerto Rico and that is detected here first. That has happened in other countries and it can happen here ".
To avoid that, he sought the use of a mask, social distancing and hand washing.