The Department of Health reported eight new deaths from coronavirus (Covid-19). Meanwhile, 1,992 confirmed and probable cases were registered.
The agency indicated in recent days it worked to establish a new connection between the information management systems used by clinical laboratories with the 'dashboard', which "will allow the reporting of tests for Covid-19 in a more efficient, complete and fast ".
"During this period, several files of test results for Covid-19 were accumulated, which entered late, simultaneously. This explains the high number of cases reported in today's report," Health explained about the high number of cases reported.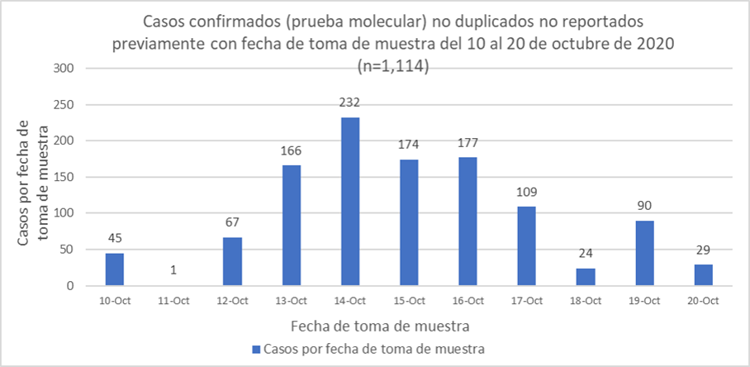 The agency assured that these do not represent a significant change in the epidemiological curve.
Now, the total number of confirmed and probable cases on the island since the emergency began in March amounts to 60,984.
Of the reported deaths, six were classified as confirmed. This is a 76-year-old woman (Ponce region) and five men, 71 years (Bayamón region), 41 years (Aguadilla region), 50 years (Metro region), 72 years (Bayamón region) and 65 years (Arecibo region).
In addition, two probable deaths were registered, corresponding to two men aged 64 and 69 from the Metro and Caguas regions, respectively.
With these additional deaths, the confirmed deaths total 602 and the probable ones are 189, making the total number of deaths 791.
On the other hand, the total of confirmed cases of Covid-19 is 30,956, of which 16,665 are women and 14,291 are men. This figure was adjusted after adding 43 cases with a sampling date from July 25 to October 9. In addition, five duplicate cases were subtracted.

The cases reported are those that have a positive PCR test, with a sample collection date of October 10-20.
As part of the report, 878 additional probable cases were registered, with a sampling date that includes October 10-20. In this line, the total is 30,028 after being adjusted, by subtracting 105 cases that had a positive molecular test later, and they were added to the cases registered as part of this report.
In addition, 28 cases were added with a sample collection date from April 22 to October 9; and six duplicate cases were subtracted. Probable cases are divided into 16,742 women and 13,286 men.