At just 11 years old, Stella Quiñones González and her colleagues from the SEEDS entrepreneurship program of the Friends for Puerto Rico organization created Paradise Accessories, a company that makes accessories based on recycled material.
"My companions and I We decided to make accessories but wanted to go further and thought of some problems we could help with, including pollution. One of the parts of the contamination is the plastic and all those materials that are not reusable, "said Quiñones, who participates in the program at the Delia Dávila de Cabán school in Toa Baja.
The Paradise Accessories group is made up of Stella Quiñones González, Emilyanis Rojas Sánchez, Emilyann Rojas Sánchez and Tamara J. Hernández.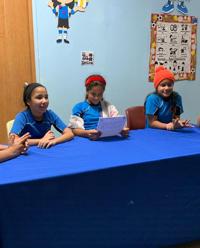 Plastic bottles, cans and fabrics are some of the materials used to make bracelets, necklaces and lampshades. "Later I want to make rings, key chains and pins. We use many times everything that can be plastic, what I can cut without hurting myself, "said the student.
Recycled materials are collected by the students themselves in their communities. With the support of their teachers and families, the students let their creativity fly to produce the accessories.
The group of students began taking SEEDS entrepreneurship courses in September last year navigating a robust curriculum through which they they learn how to start a business from scratch. "In September we started selling coffee, receiving classes and making the idea of ​​what we wanted to do to what we have today," said Quiñones, who spends three hours a day preparing his samples.
The money for the creation of Its business is raised by the students themselves through the sale of Café Ama, a coffee ethically harvested 100% in Puerto Rico, which the foundation created in order to offer business development programs for women and children. The largest percentage of the sale of Café Ama is directed to the students' companies as a base investment for their creation.
But in the circumstances of the coronavirus pandemic, Quiñones carries out its work with materials from his house and with his money he buys whatever he needs.
"My family consumes a lot of plastic. After they use it, I recycle them and put them in a bag to later use them and create my works ", explained the student.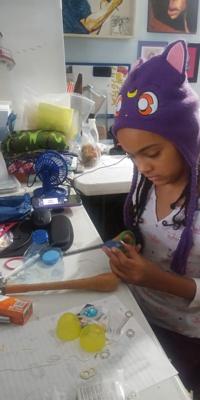 Preparing a business vision
Yaimily Desiderio, teacher The person in charge of the program at the school indicated that "the dynamics is worked through lessons that we develop together with the classes to create that leadership and entrepreneurship. The objective is to lead them to have a business vision. "
He stated that" despite the fact that this has been a fairly atypical year, including the earthquakes in the south and the Covid-19 pandemic, part of the process is continue within the measure that we can continue to develop because this is simply the theoretical part and then we go to practice. That is our north, to continue this project and raise these new companies so that we can improve that economic vision in the country. "
Right now the students are virtually from their homes but they hope to start the project soon.
In addition, he noted that there are no requirements for a student to be part of the program. "Montessori schools work on the dependence of the child and that is one of the vital things, creating an independent child that develops in different areas. This is a process that occurs daily. You simply have to be interested in being self-sufficient and carrying out a collaborative project, because we are a community, "said Desiderio.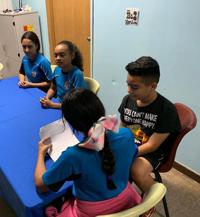 For his part, Quiñones expressed that he feels happy being part of SEEDS. "Being part of the program has been a unique experience. I have felt very united with my colleagues who are doing something so great and incredible with only 11 years of age. I feel that now I can do more than I could, that I can help many more people and my desire is to be able to show the world my talents in art, recycling and helping the planet, "concluded Quiñones.
The SEEDS program it is also located in Vieques, Aibonito, Barranquitas and Guaynabo.