Federal Health knew who and where these people are in all states and territories because it maintains a database with this information.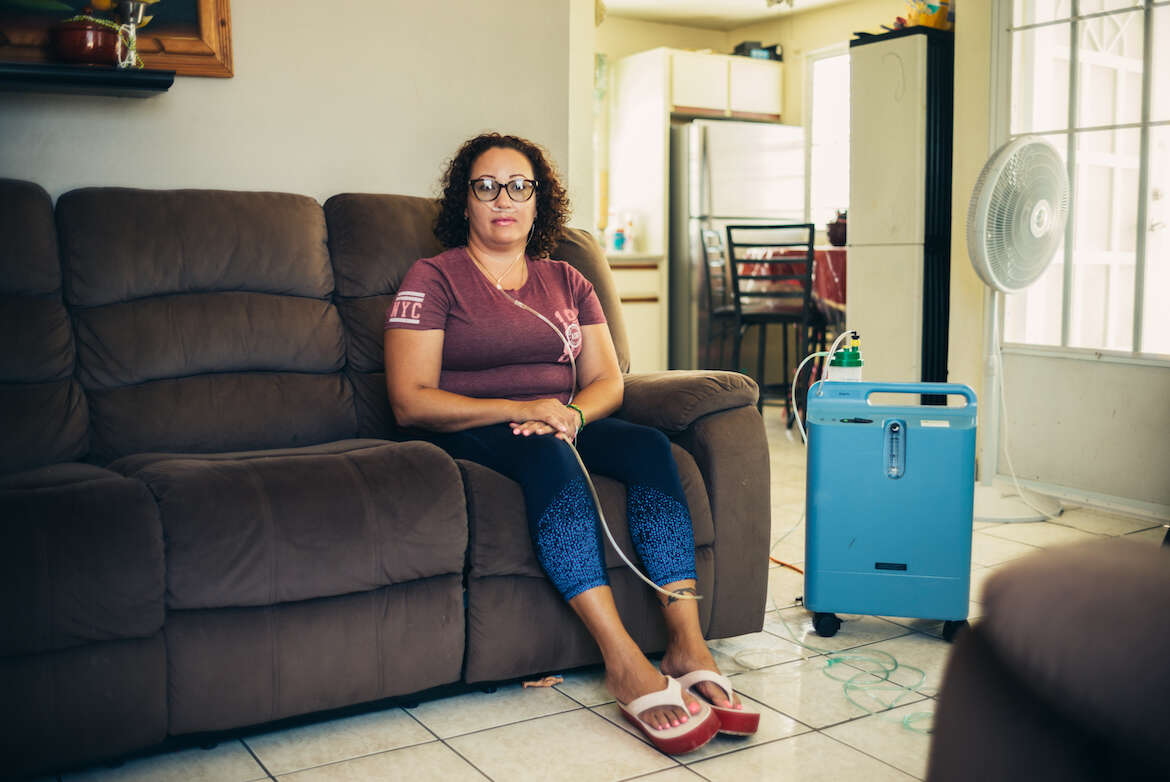 Fearing a tsunami, Sheyla Alvarado left her home that day in a coastal community in Ponce. He was carrying the oxygen concentrator with which he treats his pulmonary hypertension, but he needed electricity to use it and protect his life. The earthquake of that January 7, 2020 made it difficult. A power plant had been damaged, causing a total blackout in Puerto Rico.
The solution for her had to be in a shelter specialized in caring for the sick. The government was supposed to start it, with a power plant that would allow the use of medical equipment such as Sheyla's in the event of natural disasters such as earthquakes or the hurricane season. This was stated by Carlos Acevedo, former commissioner of the Bureau for Emergency Management and Disaster Administration (NMEAD), to the Center for Investigative Journalism (CPI) on December 20, 2019.
Eighteen days after that interview, when the The 6.4 magnitude earthquake shook the island, revealing once again the lack of preparation of the Government of Puerto Rico and the federal Department of Health and Human Services (HHS) to adequately care for patients connected to machines. In Puerto Rico there are more than 40,000, according to HHS. The earthquake revealed that a great lesson has not been learned from Hurricane Maria: lack of electricity can kill the elderly and the sick.
The location of Puerto Rico on the route of the Atlantic storms increases the need to end the cycle of negligence and errors when implementing the answer for this sector of the population. There is a 60% chance that the hurricane season, which started on June 1, 2020, is more active than normal, according to the National Office of Oceanic and Atmospheric Administration, which projects this year from three to six hurricanes high intensity.
Unlike a healthy person, who is uncomfortable not having the luxury of a hot bath during a power outage, those who live connected to these machines run the risk of stopping breathing when the electric power service is interrupted. They need it to operate dialysis machines, position beds, inflatable mattresses that prevent ulcers, as well as respiratory equipment like the one Alvarado uses. For this reason, these patients are identified as dependent on electricity.
"These are also considered people with disabilities, because without these teams they have problems working and carrying out functions of daily life," explained Betzaida Ramos, executive director of the Movement for the Scope of Independent Life (MAVI), a non-governmental organization that works for the autonomy and development of people with disabilities.
Alvarado went to seek help from the Lila Mayoral School in Ponce, which in The 2019 hurricane season was one of those specialized shelters (with water reserve, power plant, and nursing or caretaker services). But the school was closed. Problems with the power plant did not allow the shelter to be activated, said Jomalys Matías, a supervisor of the Public Housing Administration in the southern municipalities. "The wiring from the power plant was eaten by rats," he said. And there were no specialized shelters nearby to attend to this population.
Among the mayors of Ponce, Yauco and Guánica, ignorance of these sick patients reigned almost a week after the earthquake, the CPI found on a visit to the affected municipalities. "We do not know the number of these patients in our municipality," said the mayor of Guánica, Santos Seda. Ponce's press office said it also did not know the number of electricity dependents in his town. After the earthquake, that municipality had received two patients using oxygen concentrators in one of the shelters.
Five days passed before the Government began offering an alternative. The National Guard began to set up booths in Guánica with access to electricity to receive bedridden patients. There was also an air-conditioned tent that the municipality had installed, in which they were elderly, among them a 92-year-old woman who was able to connect her oxygen machine, a saliva sucker, a position bed and an inflatable mattress. It was not the specialized shelter Acevedo had announced. Mayors were attending to this population as they arrived, and not because there was a strategy to identify and search for them in their homes or because they had been previously oriented on where they should go, as indicated in the HHS protocol. Some of the people with disabilities were taken to the Santiago National Guard Camp in Salinas, Jomalys Matías said. But it was not enough.
"This is something that worries us. In our case, we are taking them to hospitals because there is no safe place to take them, "Yauco Mayor Ángel Torres told the CPI on January 12. "We have been waiting for 72 hours for the tent city (camp that the National Guard would install) to put the patients that come to us. We should update the list of these patients together with the Government, to directly provide services to these people, "he added.
The lack of knowledge about electricity dependents was widespread. Acevedo said during the interview with the CPI that he had required the mayors that in their municipal emergency plans they had to have a census of electricity dependents, to know where to look for them in the event of a disaster. But this census, at least in these municipalities, never took place.
The Government of Puerto Rico now says that it would be discriminatory to make specialized shelters
The program director of the Office of Preparation and Coordination Response Department of the Puerto Rico Health Department, Jessica Cabrera, told CPI that she had provided NMEAD with information on the number of electricity dependents by municipality, which is in the federal database called emPOWER Map, so that in turn will supply it to mayors.
The information the DS shared with NMEAD does not include names of electrically dependent patients or their addresses, because these data are allegedly to be provided "after the disaster," through a collaboration agreement to protect the private information, Cabrera alleged. This contrasts with the need to plan in advance the response for the population with special needs and to evacuate before the natural phenomenon happens, as established by the NMEAD Joint Hurricane Plan. Waiting for a large cyclone to pass those data can make it difficult to search for patients, considering that the effects of major hurricane events include landslides, destruction of bridges, tree-blocked roads, and a destroyed communications system, as happened after Maria.
Cabrera told CPI on June 10 that the new DS Emergency Management Operational Plan is in development, and should be ready before the peak of this hurricane season. He said that this document will serve as a guide to plan the disaster response for this sector of the population. It is practically the same thing that Acevedo had said in December 2019, and that did not happen.
The CPI asked José Burgos, new NMEAD commissioner, how he was going to address the risk involved in implementing this protocol after the hurricanes, and not before. "This would definitely be an area of ​​the plan that I would like to revisit with the Secretary of Health and my zone directors who work directly with local emergency management offices. The hurricane gives us the time, we have the opportunity that the earthquake does not give us. I admit that we are not going to wait for the hurricane to hit us. In 120 hours since a hurricane is announced I think we could take the necessary actions and make sure that these people are taken care of. After Maria's experience, I think we can do these evacuations in time, be more proactive. "
But NMEAD changed its stance this week, after the CPI questioned why there was no specialized shelter during earthquakes and before the hurricane season that begins: "I checked with Jessica Cabrera, from the Department of Health, and there is no plan to establish 'Specialized' Shelters for people dependent on electricity. We agree that it can be discriminatory and could separate families. We have to make sure that electricity and water be provided in each shelter, "said Burgos.
Those statements represent a 180 degree turn of the Wanda Vázquez government. Former Commissioner Acevedo (whom the Governor fired after the earthquakes) not only assured the CPI in December that he would implement specialized assistance shelters, as an apprenticeship to Hurricane Maria. It also activated them in the days before Hurricane Karen, in September 2019. In addition to the Ponce campus, it launched the Alejandro Tapia y Rivera School, in San Juan, the Tomás Dones Coliseum, in Fajardo, and the Manuel "Petaca Coliseum "Iguina, in Arecibo, to attend to the population with special needs. But this initiative was revealed as a resource challenge for the DS. For the former Secretary of Health, Rafael Rodríguez Mercado, it implied having personnel "on call" for when it was necessary to attend to a medical situation; According to Acevedo, the expectation was that there would always be medical personnel to attend to any emergency, reported Primera Hora.
"My opinion with last year's specialized shelters is that they were an excellent initiative," said Ramos, the director of MAVI. "It was a step that we had taken forward versus what we had experienced with Maria. That we are not considering it at this time is regrettable. All shelters must be accessible, but the reality is that they are not. "
The current DS protocols do not constitute any concrete help for electricity dependents. The Operational Emergency Management Plan, which is partially on that agency's website (and which was delivered to the CPI after a demand for access to information), does not refer to how they will be treated or who is in charge to coordinate that care. The 2019 DS Public Health Guide to Emergencies and Disasters instructs patients to ensure "that all electrical or battery assistive devices are functional" and to keep "batteries in a waterproof bag" and to who need oxygen reminds them that "they will need an electrical source and / or reserve cylinder of oxygen," for example. Nowhere does it specify where these patients can go, or what the process will be once they arrive at a "specialized shelter" that they are supposed to exist in.
The NMEAD Joint Hurricane Plan goes beyond that of the DS. It recognizes the existence of special populations when identifying, locating and assisting people with different disabilities and conditions, giving them priority treatment and reasonable accommodations, and establishes a census and registry by municipality. It indicates that the NMEAD must support mayors who are evicting these patients and orders that there be specialized medical personnel or social workers in the shelters to take care of them. Furthermore, it provides that patients with medical needs be transferred to specialized shelters, which must serve both diabetics and oxygen-dependent patients, among others.
"There is still the same need"
After finding the Lila Mayoral School closed on the day of the earthquake, Sheyla Alvarado went with her daughter and her husband to the Bernardino Cordero Vocational School, the official shelter of the municipality of Ponce that had a power plant. There he was able to connect his oxygen concentrator for about three hours in the afternoon, until at night they closed the dining room area, where they allowed him to load his equipment, he said. Since there was still no cot on which to sleep, he went to his car, where he continued to use his oxygen concentrator for about two hours, the approximate time of his portable batteries. On the third day he was able to get a cot and was allowed to connect his electrical equipment. However, Alvarado was not resting and felt that he was running out of air and went to a nearby motel with electricity. He returned to the shelter on the fifth day of the earthquake, where he had an electrical connection, but he left because he was in poor health and went to see a doctor. Then he found a relative in Arecibo who offered him a safe roof. When the aftershocks fell and her home appeared to be safe, Sheyla returned to her home, where she has a power plant. He has been able to partially do without the equipment because he is now using medicine for his lung condition. When asked if he has known of any initiatives to help sick people who depend on electricity, from the January earthquakes to this new hurricane season, he responds with resignation: "Nothing. There is still the same need. "
They did know who they were and where they were
Despite the ignorance of the Government of Puerto Rico and the mayors, Federal Health did know about electricity dependents since before hurricanes Irma and María. Because HHS maintains a database that indicates who these people are and where they are in all states and territories. In Washington, the Office of the Assistant Secretary for Preparedness and Response (ASPR), which belongs to HHS, created the digital tool emPOWER Map in 2013. Its goal is for local emergency managers to contact these patients and offer them a safe haven with access to electricity.
Four years have passed since ASPR created the tool for Puerto Rico to receive the data, in September 2017 It was just after Hurricane Irma and before Hurricane Maria that HHS communicated to the Government about the existence of emPOWER Map, Jessica Cabrera confirmed to the CPI. On that occasion, HHS was in the process of identifying and mobilizing more than 200 dialysis patients to Puerto Rico from the US Virgin Islands, after Hurricane Irma destroyed the hospital on the island of San Tomás.
Cabrera told CPI that HHS began sending information to the DS about electricity dependents in Puerto Rico after Maria. That means that, if his statements were true, the federal health agency made no effort to use the database to save lives during the worst natural disaster in 100 years on the island, when most of the deaths were related to the lack of electricity, according to an investigation by the CPI. Cabrera alleges that he does not remember the specific date on which the DS began to receive this information.
The origin of this initiative had been storms. The New Orleans Department of Health, seeking to improve emergency response after Hurricane Katrina, requested support in 2013 from HHS to help them locate these patients, using data from beneficiaries of the Medicare and Medicaid programs, in a simulacrum. It was after this effort, and the experience of Hurricane Sandy and the 8.5 million people left without electricity in 2012 in the Northeast USA, that the idea was born. HHS created a database to help prepare and assist these patients in the face of forest fires, earthquakes, hurricanes, and floods, among other emergencies. The emPOWER Map database has the number of electricity dependents by counties and municipalities, as well as by zip code, keeping patients' names private. It allows only public health officials, and upon request, to have the names of electricity dependents and their addresses.
Not only was the Government unaware of the emPower Map prior to the 2017 hurricanes, but also power organizations Support such as the Renal Council, a nonprofit organization that helped mobilize dialysis patients from the Virgin Islands to Puerto Rico. Ángela Díaz, director of that entity, learned of the existence of emPOWER map when the CPI called her a month after the earthquake. She was surprised to learn of the tool because she had requested data on kidney patients from the Renal Network, an organization that contracts with the federal Medicare program to coordinate support for institutions that serve this population. "The information is not shared with us. That is a reality. Our statistical reports have been affected because we have not been able to have information in the last two years. I don't need the name of the patients. Tell me tantos so many live in Yauco, so many live in Ponce '. With that nothing else, we can begin to solve, because it gives us a guide of how many resources are going to be needed per region. For now, you have to blindly take to the streets to see what you find. "
The CPI requested an interview with Kristen Finne, senior analyst at ASPR and administrator of emPOWER Map, but a press officer only sent these statements:" All state and territory health officials were provided information on HHS emPOWER tools during meetings in recent years, and when disasters are predicted or occur, our regional emergency coordinators remind health authorities that additional data is available. We provide Puerto Rico's health authorities with a level of data to save lives after the earthquake. "
If these statements are true, in addition to HHS failing during Hurricane María for not having given the information in time, the Government of Puerto Rico, having information, also failed after the earthquake, for not having implemented a plan that would cover all sectors dependent on electricity after that disaster.
In the federal Congress, Dr. Karen DeSalvo, former Health Commissioner for New Orleans , who launched the first simulation that originated emPOWER Map, advocated expanding the use of technologies like this and giving more training to officials. DeSalvo, who was later HHS assistant secretary during the Barack Obama administration and is now Google's chief health officer, hinted that this database has yet to be released: "Technology tools like emPOWER Map are only helpful. if local officials are aware of this resource and are trained to use it, "he said in his presentation.
Federal Health breaches and errors
On December 17, 2010, almost seven years Before Hurricane Maria, HHS received a recommendation that would have helped save her lives had she been welcomed. The US Government Accountability Office (GAO), an accountability agency working in the service of Congress, told HHS that it was time to set up an information network that would integrate different databases federal public health data. That digital tool, ordered by the Pandemic and All Threat Preparedness Act of 2006, sought that officials could make decisions in real time in the face of national risks such as disease outbreaks, terrorist attacks or natural disasters. ASPR, a division of HHS that was required to abide by that legal mandate, disregarded the warning.
GAO released a follow-up report in 2017, indicating to HHS that this information network should be ready by 2015. It stated as Take emPOWER Map, the one that helps locate electrically dependent patients, as one of 25 federal digital tools that could be included in that integrated information network.
That GAO report had been foreboding. About two weeks after its publication, Hurricane Maria destroyed Puerto Rico's power grid. Thus began the longest blackout in the history of the United States and its territories, and the need for information to save lives was evident. This is confirmed by a subsequent report by the GAO, dated May 2019, which asks FEMA for actions to better serve the elderly and people with disabilities during disasters.
A group of officials and non-profit organizations on the Island , who worked during the emergency, also told GAO that they supported the idea of ​​having a type of registry to locate the elderly and people with disabilities. Giving that information was not the responsibility of FEMA, but of the federal Office of the Assistant Secretary for Preparedness and Response (ASPR), at least with people connected to machines.
But having a database to locate the sick is not enough. This is indicated by GAO itself in a third report of 2019, in which it points out deficiencies in the preparation of HHS and its lack of leadership in the face of the 2017 hurricanes in the US territories. This report indicates that, after Federal Health mobilized the more than 200 dialysis patients from the Virgin Islands to Puerto Rico, the same ones that they had located with emPOWER Map, they did not know where they had been evacuated because they had not started a mechanism to track them.