He became known more than 15 years ago for his character Hugo "Hurley" Reyes, in the television series Lost. A decade after the program ended, the American actor and comedian Jorge García, materializes his first star in the film, Nobody Knows I'm Here, which premieres tomorrow on Netflix.
The 47-year-old artist, who also He has been part of other television series such as Alcatraz, Once Upon a Time and the most recent, Hawaii Five-O., is the host of his own podcast program called Kaiju Podcast, dedicated to kaiju (giant beasts) movies.
EL VOCERO had the opportunity to talk to García about his first main role, his routine during the current pandemic, as well as the similarities and differences between his current role and Lost, among other topics.
In Nobody Knows I ' m Here, he plays Memo Garrido, a former child singer turned inmate, who lives in pain until, unexpectedly, a woman comes into his life and really listens to him. The Chilean film is directed by Gaspar Antillo, produced by Pablo Larraín and written by Enrique Videla, Josefina Fernández and the director himself.
You come from a Chilean and Cuban family. What does it represent that your first leading role is in a Chilean film?
I was able to reconnect with that side of my family by traveling to Chile to film. Taking on the role was a huge draw. When I got the script, I really liked it. I was very interested in this character, because there is something mysterious about him. There are great flashes of quirkiness mixed in with this type of lonely boy. And I wanted to live in that body and explore how to get that life. It was very important to me and I wanted to take this opportunity to do it. So being able to go there and reconnect with my family was an additional blessing.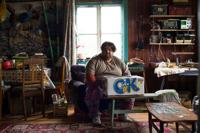 In the film, he plays Memo, who has had some experiences related to stardom and fame. When Lost took off in 2004, he became famous. Was playing with the good and bad sides of fame something that attracted you to this project? How did it help shape your character?
There's definitely a little bit of my experience that was part of the focus. The original script was very fluid. We worked on it, we came up with new ideas and changed a few things from then until production, to get to the story we ended up with. And definitely, in the discussions I had with Gaspar before that, there were elements that we talked about. He sent me some things that inspired him in writing and character, and using all those kinds of things helped shape the character. Memo's basic personality and where his heart is is where I first connected from.
In the movie, his character has been in a self-imposed quarantine for different reasons. In his case, he has stayed away from the modern world and all technology. How do you think Memo would have fared in our world today during this pandemic? And what have you been doing during the last months of confinement due to Covid-19?
Clearly, Memo was made for this period. Perhaps he would not even have realized that all this happened. If Uncle wasn't there explaining what was happening, Memo might not have known. I am fortunate to be able to be at home without it affecting my ability to live too much. But it is very rare. My experience is similar to Groundhog Day, the same day every day. We try to divide it a little bit. We play Xbox a lot and garden a lot. I try to expand the things I cook, since I start to miss certain foods that we used to leave to the professionals. In fact, I have my wedding anniversary on Sunday, so we are going to have a celebration at home, but we are going to try to have some elements to remind us of the day and keep it special.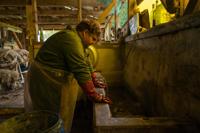 His new movie has a song that is essential to the story. Are you actually singing?
Yes, it's me singing as an adult. Someone else does the boy's version.
In May, Lost celebrated ten years since its television finale. If the opportunity presented itself, would you be willing to revisit that world of Lost in some capacity? If Memo had been stranded with you on that island, would he have gotten along with Hurley, Jack, Kate, and Sawyer?
I'd be interested to see how he would be revisited, of course. If anyone wanted to revisit the show, they would be willing to read it and find out where they would go with it. I would also be interested if someone revisited that universe without us, and found some other aspect of the program to explore. I would also be curious about that.
Memo on the island would be interesting. I think it would force him out of his shell. Obviously Hurley would find an attraction in Memo, as they would find a lot in common. Hurley was always a caregiver, so he definitely wanted to make sure that Memo was fine, of Memo spending it alone.