The tropical wave is maintained with winds of 45 miles per hour (mph) as it passes through the south of the Island, the National Hurricane Center (NHC) reported in its 8 bulletin: 00 at night.
The system is located at latitude 16.0 degrees north and at longitude 66.3 degrees west, at 18 miles per hour.
According to the latest report, some strengthening is expected until tonight, with weakening likely on Thursday due to interaction with land.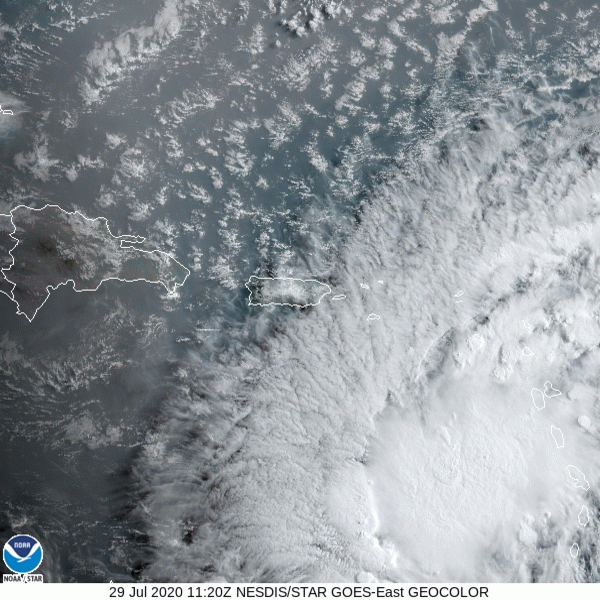 The disturbance is moving west-northwest about 18 mph, while a reduction in forward speed is expected in the coming days.
According to the predicted route, the system will continue to pass south of Puerto Rico tonight, near or over Hispaniola on Thursday, near eastern Cuba and southeastern Bahamas on Friday, and approaching northwestern Bahamas and southern Florida on Friday night.
Maximum sustained winds are near 45 mph with increased gusts.
The NHC forecasts some increase in strength through tonight, with a likely weakening on Thursday due to ground interaction.
Furthermore , the coordinator of warnings of the National Meteorological Service, (SNM) Ernesto Morales commented this afternoon to EL VOCERO that, so far, there is no area more prone than another in terms of floods, therefore, all of Puerto Rico has surveillance of flash floods.
"When we see which regions get red or orange on the radar, we know that they are the most affected areas. And if necessary, a Flash Flood Warning is issued, "Morales explained.
In Puerto Rico, between three to six inches of rain and up to 10 inches are expected in isolated areas.
Tropical storm conditions will continue for the Leeward Islands, the United States Virgin Islands and Great Britain and Puerto Rico until tonight.
At sea, storm surges generated by the potential tropical cyclone will affect sectors of the Leeward Islands, the Virgin Islands and Puerto Rico over the next few days.
These conditions are forecast to reach the north coast of the Dominican Republic and the Turks and Caicos Islands and the southeastern Bahamas on Thursday.