Puerto Rico reached a new peak of confirmed coronavirus cases (Covid-19) in a single day, after reporting 106 unique infections on July 3.
This total exceeds by 21 the figure of 85 cases confirmed by one-day molecular test (PCR) —reported so far as the highest— on March 30. This had been considered by many to be the peak day of cases since the virus arrived on the Island almost four months ago.
However, according to data found in the daily report of the Department of Health, the Island has exceeded —or is has approached— the previous figure of 85 positives in one day on several occasions since June 29.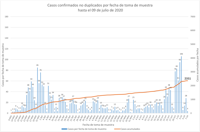 On July 2, Salud reported 95 new confirmed cases on that day. This sum is followed by June 30, with 83 infections; and on June 29 with 78. On July 1 it reported 61 positives. In these five days, Health added 423 confirmed cases to the total of 2,351 that it has reported to date.
The date refers to the day the sample was taken, and not when the person was infected.
On Wednesday, the executive director of the Puerto Rico Institute of Statistics (IEPR), Orville Disdier, raised his voice of alert after the cases confirmed on June 30 approached the 85 positives on March 30.
"Definitely the curve it is showing a positive bias that tends to resemble exponential growth. When that happens it is an important alert, because it means that the cases are increasing significantly and that we are already far away from that trend where the curve was flattening, "he pointed out to EL VOCERO .
Health today added 113 confirmed cases and another 132 probable cases of coronavirus, bringing the totals of each category to 2,351 confirmed and 6,786 probable.
Hospitalizations are in 140. Of these, 12 patients are in intensive care units and 10 are connected to an artificial respirator.