The new coronavirus spike (Covid-19) continues to rise, after the Health Department reported in its daily report that on July 7, 194 unique cases were confirmed.
This exceeds 111 cases the most reported peak day on March 31, when Salud reported 85 confirmed cases that day.
This was the day with the most confirmed cases until June 30, when 87 cases were confirmed. However, this was not known until days later due to the delay in the data provided by Salud. Since that time, daily confirmed positives have been on the rise.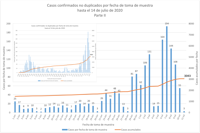 According to the report Today, on July 6, 164 other cases were reported by molecular test (PCR), on July 8, 144 cases, on July 3, 131 cases, on July 9, 108 cases and on July 2, 106. These figures may vary. According to Health, it adds more cases in each report.
In the accumulated, Health has confirmed to date 3,043 cases of Covid-19.
On the other hand, Culebra already adds 8 confirmed cases after maintaining itself without any contagion for the first months of the emergency. It was there that an outbreak was reported in recent days at Mamacita's Guest House.
At the moment, the municipality of residence of 108 cases is unknown. While San Juan remains as the municipality with the most confirmed cases (501). It is followed by Bayamón (211), Carolina (182), Guaynabo (163) and Caguas (114). Ponce and Mayagüez add 95 each.