Governor Wanda Vázquez Garced fired today the Secretary of Justice, Dennise Longo Quiñones.
As Longo Quiñones expressed in his resignation letter, Governor Wanda Vázquez Garced asked him to resign. "However, as requested, I must resign from the position I hold as Secretary of Justice, to explore new opportunities for professional growth," reads the letter signed by Longo Quiñones.
Fuentes de EL VOCERO They assure that at a meeting that took place in La Fortaleza, the governor asked Longo Quiñones about the investigation of the Covid-19 tests and asked him that this investigation had to be filed before August 9, the date of the primaries.
EL VOCERO requested a reaction from Mariana Cobián, press secretary at La Fortaleza, but so far no response has been received.
Longo, who held the post since August last year, was referred by the House of Representatives to the Office of the Panel on the Independent Special Prosecutor (Opfei) and to the agency that he headed until today, for "the possible commission of the crime of perjury for the expressions poured out under oath before the special commission ".
In a public hearing on the discovery of a warehouse in Ponce, Longo Quiñones refused to deliver the preliminary report prepared by the Special Investigations Bureau (NIE) on the events that caused that facility not to be activated in time, which generated controversy amid the earthquakes in the southwest area. Given this, the Chamber had to resort to the courts to request the delivery of the internal document of the NIE.
The also daughter of the former Secretary of Health, Concepción Quiñones de Longo, recognized the power of the Legislature to investigate under the Constitution of Puerto Rico, although it clearly stated that there are confidentiality criteria in all inquiries carried out by the agency.
Read the letter here: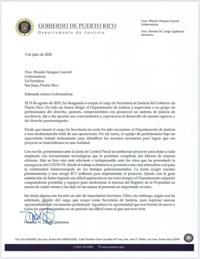 Accept resignation
For its part, the first executive accepted Longo Quiñones' resignation. "I thank Longo Quiñones for the time he served Puerto Rico from the Department of Justice. We wish him success in his future plans, "said the president.
Likewise, she announced that Ms. Wandymar Burgos Vargas will assume the position. Until now, she has excelled as an assistant secretary in charge of civil litigation for the Department of Justice, and previously served as director of the Federal Litigation Division and the Promise Law of the Department of Justice. Burgos Vargas is a lawyer and studied administration at Boston University and became a Juris Doctor at the University of Puerto Rico.