Rationing came for the clients of the Carraízo reservoir of the Authority of Aqueducts and Sewers (AAA) and here we tell you which are the sectors that will be affected by the interruptions of the drinking water service from this Thursday, July 2.
The executive president of the AAA, Doriel Pagán, reported that rationing will be for 24-hour periods for two areas that were identified as A and B in the towns of San Juan, Trujillo Alto, Canóvanas and Carolina.
According to the official, the number of clients affected amounts to 140,000, of the 170,000 served by the reservoir that today dawned with 37.26 meters of water.
These are the sectors affected by zone:
Zone A: Carolina, Canóvanas, Trujillo Alto and San Juan
Carolina: Tanque La Loma, Carruzos I, Carr. 857, Km 5.1 to Int. With Carr. 185 , Carr. 856 to Int. With Carr. 853, Bo. Barrazas 58. Golder Valley Sector, Carr. 853, Km 8.1 to Carr. 853, Km 8.6, Cuesta Los Flacos Sector, Cedro Sector, Monoloro Street, Yagrumo Street, La Rosa Street, Carr. 859, Km 0.4 to Carr. 859, Km 2.6, Carr. 857, Km 1.6 to Km 4.9, Sector La Aldea, Sector Las Chispas, Carr. 857, Km 2.7 to Carr. 857, Km 3.0, Carr. 859, Km 3.0 to Carr. 857, Km 2.7, Urb Villa Retorno, Los Carmonas Sector, Twin Tanks, Bo. Santa Cruz, Carr. 859, Km 1.0 to Km 3.6, Sector El Trompito, Calle Aldea, Sector Los Cubas, Sector Quebrada Limones, Sector Los Nieves, Sector Los Sosas, Carruzo IV, Sector Los Lajas, Sector Los Canales, Carr. 856 from Km 1.8 to Km 3.5, Carr. 8856 Int. 856 to Km 2.0, Carr. 856, Km 2.0 to Carruzo V, Sector Las Filipinas, Sector Cuesta Los Flacos, Carr. 856 up to 500 meters before the Int. with Carr . 185, Negro Pagán Sector, Calo I and Calo II Sector, Cacao Centro Sector, UGT Sector, Golder Valley Sector, Los Rivera Sector, Las Gaviotas Sector, Los Febres Sector, Taíno Sector, Carr. 858, Km 0.8 to Km 3.8, Cacao Centro, Luis Muñoz Marín Airport, Urb. Vista Mar, Urb. Catelana Garden, Urb. Jardines de Country Club, Sabana Bajo, Urb. Country Club, Villas Asturias, Sabana Gardens, Valle Arriba Heights, Urb. Villa Fontana, Urb. Heights of Villa Fontana, Villa Cooperativa, Villa Venecia, Jardines de Borinquen, Villa Justicia, Urb. Rosa María, Urb. Vista Mar Marina, Urb. José Quiñones, Villa Flores, Urb. Los Ángeles and Urb. Villa Carolina.
Canóvanas: Sector Los Castillos, Bo. Lomas Cole, Quebrada Prieta, Carr. 785, Km 8.6 to Km 11.0, Sector La Vega, Sector Martín González I, Sector Loma de Cubuy, Lomastino, El Arca, Parcelas Las 400, PR 185, Km 14.1 to Km 12.6, Sector Las Yayas, Los Sosa Sector, Los Pérez Sector, Los González Sector, Los Café Sector, PR186, Km 1.3 to Km 7.0 and Las Cuadras Sector.
Trujillo Alto: Round Hill, PR 181 Int. With PR 8860, Lago Alto, Terra Linda, San Rafael Complexes, Patio Sevillano, Villas del Lago and surrounding complexes, PR 846, Inter-American Complexes, Ciudad Universitaria, Bda. Los González, Carr. 175, from Int. With PR 181 to Km .3, Villa Margarita, Lomas de Trujillo, Sunville, Urb. El Conquistador, La Lomita, Vista Serena, Riveras del Río, PR 845, from Int With the PR 175 to the PR, Rincón Español, Jardines Morales, Fair View, Sector El Hoyo, Parcelas Carraízo, Haciendas de Carraízo, Villas de Carraízo, Terrazas de Carraízo, PR 850, Bo. Las Cuevas, Coliones de Fair View, Villas de Caney, Andreas Court, PR 199, Los Paseos and Borinquen Gardens.
San Juan: Hill Mansions, Park Gardens, Villa Capri, Venus Gardens, El Dorado, Urb. San Gerardo, Sector El Cinco, Villa Húcar, Camino Hogar del Niño, Ave. Winston Churchill, Ave. Paraná, PR 844, El Cerezal, Cupey Alto, Sector El Capá, Borinquen Gardens, La Marina, Los Choferes, Cupey Gardens, Montebello , Reparto Universitario, Villa Andalucía, Ext. San Agustín, Cond. Town Park and Bo. Vista Alegre.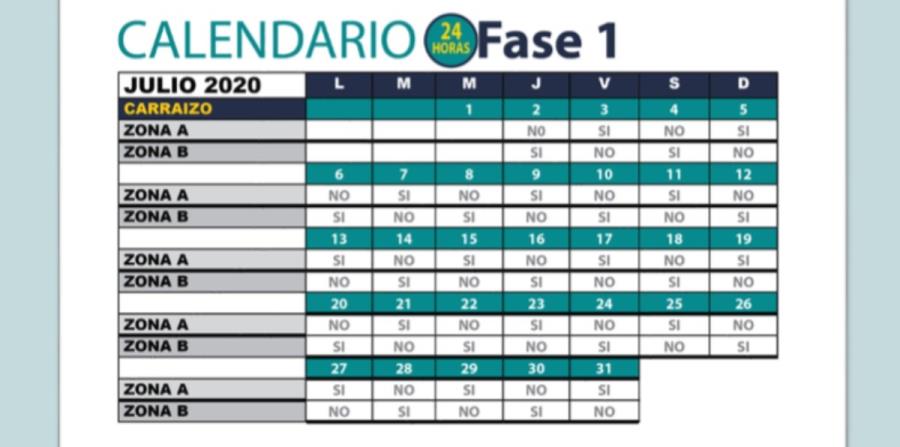 Zone B: Carolina, Canóvanas, Trujillo Alto and San Juan
Carolina: Carr. 853, Km 2.7 to Carr. 853, Km 3.6, Camino Zequeira, Sector La Cantera, Bombas Arrallanes I, Sector Hoyo Frío, Sector El Tamarindo, Sector Los Benítez, Carr. 853, Km 3.6 to Carr. 853, Km 8.0, Barrazas, Sector Los Tapias, Cuesta Los Flacos, Km 1, Sector El Tamarindo, Sector Los Brillones, Sector Los López, Sector Los Márquez, Sector Temple El Arca, Sector Los Álamos, Sector Los Fernández, Sector Aguas Claras, Carr. 853, Km 6.8 to Int. With Carr . 185, Los Flores Sector, Bo. Cedros, Carr. 185, Km 11.0 to Km 12.8, Bo. Cedros, Urb. Metropolis, Apartamentos Metro Monte, Urb. Estancias Metrópolis, Chalets de Metrópolis, Urb. Carolina Alta, Condominium Paseo de Monte Flores, Urb. Lomas Alta, Residencial Lomas Alta, Residencial Roberto Clemente, Residencial Los Mirtos, Urb. Carolina Housing, Urb. Los Trees, Villa San Antón Condominium, Cuesta Quiles Sector, La Lomita Sector, Villa Madrigal, La Alambra, Club Yaucano, Mameyal Sector, Urb. Rollings Hills, Camino Los Parceleros, Carr. 860, Km 0.2 to the tank Metropolis, Urb. Estancia del Camino, Urb. Jardines de Carolina, Parque Escorial apartment complex, Escorial Plaza, Carr. 848, Bo. Saint Just, Urb. Equestrian Park, Torrecillas and Loíza Valley.
Canóvanas: PR 962, Bo. Cambalache, Estancias de Campo Rico, Finca Maravilla, Lomas del Viento, Old Plots Campo Rico, New Plots Campo Rico, Tank New Plots Campo Rico, Sector El Río, after the chorritos, Sector Finca Pozo, Canovanillas, Carr. 185 Km 1.6 up to Km 8.6, Finca Calzada, Las Haciendas de Canóvanas, Urb. Las Haciendas, Los Navarros, Mansiones del Tesoro, PR 941, Quintas de Canóvanas, Hippodrome Camarero and Urb. Ciudad Jardín.
[Trujillo Alto] : PR 181, Encantada Complexes, PR 181 to Int. PR 851, Bo. Glory, Bo. Dos Bocas, Talanco Sector, Quebrada Negrito, Coco Panel, Trujillo Alto Town, Bo. Masa Sabana, Wonderville and Bo Boundary. Santa Rita, Gurabo.
San Juan: PR-876 Montebello Complexes, Industrial Zone at PR-877, Ave. 65 Infantry, PR-3, Venezuela, Good Advice, Experimental, Cambridge Park, Reparto Contemporáneo, Chalets de Cupey, Antigua Vía, Villas de Lomas Verdes, Antón Santi, Villa Nevárez, Medical Center, Jardines Metropolitano, Pueblo de Río Piedras, Ave. Barbosa, Cantera, Bda Bitumul and Israel, Floral Park, San José, Pérez Morris, Valencia, Quintana, Manuel A. Pérez and surrounding areas, PR 3 Int. PR 181 to PR 3 Int. PR 849, Country Club 29. Hill Brothers, Parcelas Falú, Las Virtudes, Reparto Sevilla, Monte Hatillo, Carr. 849 , Terrazas de San Juan, Colinas de San Juan, La Vista, San Martín, Sector Monteflores, Calle San Mateo, Calle Julián Pesante, Calle Del Valle, Res. Villa Kennedy, Res. Las Casas, Calle Lutz Villa Palmera, Monte Carlo, Santo Domingo, Portal La Reina, Berwind and Monte Park.