Around 10:00 in the morning on Thursday, activists and protesters from the trans community took their rejection to the offices of the State Elections Commission (CEE) in San Juan through a picket for systematic discrimination. [19659002] This, after last week Joanna Cifredo -transgender woman- denounced the ordeal that lived in the Permanent Registration Board (JIP) of the municipality of Bayamón on social networks, to get her electoral card.
The basis of this demonstration is the discriminatory treatment that a woman received for her electoral card, "said Mariana Nogales Molinelli, candidate for representative for accumulation of the Victoria Citizen Movement.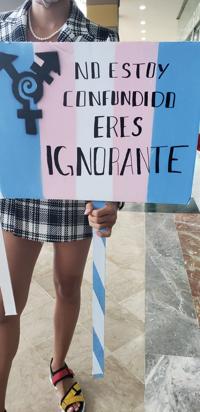 " We cannot allow that there be discriminatory treatment! ", sentenced Nogales Molinelli through Facebook Live since the demonstration.
On the other hand, activist Justin Jesús Santiago explained to EL V I OCERO that the painful situation that Cifredo went through was "the last straw" in what happens in government offices and their treatment without respect.
"The government -and its officials- are ours employees. Their personal beliefs must be left at home and they must work for the people, "added Santiago.
As he warned, these situations of discrimination even in the trans community can lead a citizen to suicide. "This is about human life."
The activist warned that this is the first of many demonstrations to come, as they are "fed up" with government agencies and must learn to respect their existence.
Despite the fact that the demonstration was passive, the Police placed fences around the building for its protection.
The protesters took advantage of the visit to the EEC to register to exercise their right to vote.
The past July 9, Cifredo Fellman shared his experience to be able to get his electoral card under his legal name.
"My legal name is Joanna María Cifredo, so says my passport, my social security card and my license," Cifredo related. .
According to the young woman's complaint, on several occasions JIP officials referred to her with an incorrect pronoun, "he."