About 30% of the population of 3.6 million inhabitants in Puerto Rico experiences hunger every day, which often means going to sleep at night without adequate food intake.
This is told by the sociologist and specialist in poverty and social inequality studies, Linda Colón, to portray in a sentence the complexity of an issue that has taken her years to address and which she understands that the authorities continue not to assume correctly.
Denise Santos, president of the Food Bank – which in the last year has distributed 13.5 million pounds of groceries to needy people on the Island – describes the lack of greater action with a phrase: "They say that hunger is written with H and for that is neither said nor mentioned ".
Both Colón and Santos participated yesterday in the Zero Hunger online discussion, on Hunger Awareness Day, in which they highlighted the absence of a broad discussion on this matter, especially among those who determine public policy. They also said that proposals with alternatives are missing in most of the platforms of the candidates who aspire to the election in the general elections on November 3.
"It has been very difficult for the rulers to understand that the problem exists and is real, and if we do not work with the issue of food security and poverty, we cannot try to make Puerto Rico a world-class island," he said. Santos, and stated that —with less than 40 days to go before the elections— "I have not yet seen any of the candidates work on the issue" of poverty.
"They end up talking about the usual, that we have to look for more federal funds, but we cannot depend only on federal funds," he said.
They highlighted that in Puerto Rico 56% of families live below the poverty level and in most of these households the responsibility of maintaining the home rests with female heads of the family. In addition, 6 out of 10 children on the island live in poverty and with food insecurity.
According to Colón, the fact that such a high number of people have "normalized" hunger in their daily lives is alarming, and although there are no studies that collect the experience of the last year – that include the impact of earthquakes and the pandemic of the Covid-19— there is no reason to doubt that all the indicators of poverty, social inequality and hunger have registered a significant increase.
He explained that poverty has grown and that there are social sectors that were not used to experiencing the lack of ability to acquire food.
As it was a middle class on the border with the poor class, seeing their income reduced due to the closure due to the pandemic, they are now in circumstances "that have precipitated them into poverty."
"There is another sector – 25% to 30% – that has been in the worst marginality of our society, it has always experienced poverty and they have no hope of getting out of there, and that comes for generations. In this sector, the conditions of hunger are normalized, "said Colón.
For his part, Santos said that social change was immediately reflected in the services offered by the food bank. "It is very sad to see that due to lack of resources the person does not have a meal a day," he said.
He explained that as a result of the closure of much of the economic activity and the quarantine decreed by the government in mid-March to handle the emergency of the pandemic, there were 200 thousand people whose income was reduced or disappeared.
"At the beginning of the pandemic, the Food Bank's (telephone) box fell many times due to desperate food orders," Santos said, and mentioned that there were people who "maybe had the resources (to buy food ), but not transportation ", as happens with the elderly.
He indicated that in the central and southern areas of Puerto Rico there is a great need, with many people "who do not have the resources to eat."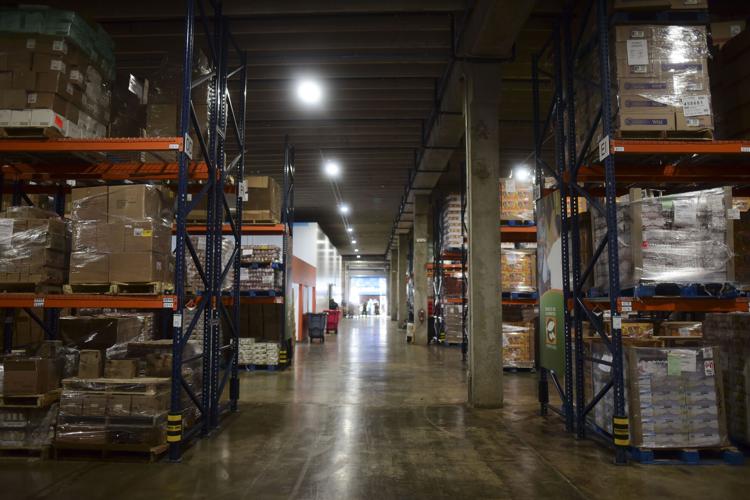 To this, Colón added that hunger – in addition to the physiological part – also has a social, cultural and historical component, which must be addressed with programs for the development of jobs and self-management, and not merely the assistance that perpetuates the condition of poverty.
"Poverty is tied to a continuous dissatisfaction of not being able to satisfy some needs. There are the old men who choose between eating and buying medicine, "Colón mentioned as an example, and he distinguished that there are people who can satisfy their food needs at one time and not at another, and" there are some people whose income is not going to never allow going to buy a piece of meat ".
For this reason, he added that the issue of closed school canteens when there are children that was the only hot food they received during the day, is a matter of high priority.
They warned about the urgency of measures to reduce social inequality that leads to hunger in families, and that is directly associated with the lack of employment or jobs whose pay barely allows subsistence.
They called attention to climate changes that affect or will affect food production, which will destroy jobs and they understand that they will promote "climate migration", such as that experienced by thousands of Puerto Ricans after Hurricane María.
"Unfortunately, what we lack is that the direction of the country is one that is directed towards the objective of reducing poverty and inequality," said Colón.
A survey released this week and conducted by professors from the School of Public Health of the Milken Institute of George Washington University and the New School Institute, indicates that 40% of Puerto Ricans have experienced food insecurity during the pandemic, compared to 38% who I experienced it before.