The love for music that the trumpeter Carlos "Coamito" Martínez transmitted to his children will be reflected in a project that will include several of his successes from the production of La 80's machine.
His daughter Karla Martínez said that Since she was little, at home she breathed music and although her father played the trumpet, she felt something special about the piano, her main instrument since she was 5.
Her brother Carlos "Cholo" Martínez leaned towards bass and piano , and his other brother Carlos "Coamito" Martínez followed in the footsteps of his father with the trumpet.
However, the patriarch of this musical family, who is 84 years old, dedicated himself to teaching them the value of any instrument or genre .
"He always wanted me to learn music, but it was not this pressure that I had to dedicate myself to this, but that was something that came naturally. He was the one who taught me my first piano lessons. When they introduced me to the piano, it was perfect, "said in an interview with EL VOCERO the young pianist graduated from the Conservatory of Music of Puerto Rico, while stressing that her interest in salsa was born after seeing daily how his brother Cholo and his father practiced.
He mentioned that "he always saw him and Cholo playing at home, practicing salsa and that was hitting me."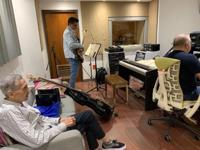 " I never took a popular piano class; this was listening to records with him at home. Something that daddy has always stressed to me is that we are musicians, we have to be prepared to play any type of music. So it was that he was able to transcend through the decades and keep up with what was happening. Although most people associate it with salsa, he could play anything, "he said of his father, who served as conductor of the Pan American Orchestra for more than 25 years.
About the project that seeks to perpetuate the legacy of Coamito , the young woman revealed that "it was a concern to pay tribute to my dad in life. My dad is like the last pillar of those great trumpeters and orchestras and because my brothers and I work on the project so that he can enjoy it, that he can be present in the process. They are themes from an album that my dad made was called La 80's machine, an album that was very famous in Latin America, especially in Colombia, Peru and Venezuela. "
He added that the production, which will be digital, will include some songs from that album along with various arrangements that the musician commissioned, but never recorded. Although he identified the talents who would participate in this project, he assured that others made approaches to participate in it and pay tribute to the trumpeter.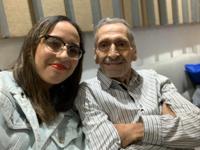 Although the coronavirus pandemic has plans to complete this musical gift have been altered, they hope to have it ready soon.
"I am so blessed to have you as a father. I think I won the lottery with him and with my mom. I couldn't ask God for better parents than them, "he concluded.